Videos appear in order of most recent at the top to my first public disclosure at the bottom.
LA Times: Bill Cosby protesters demand changes in rape laws: November 22, 2015
To view this LA Times video, you may have to use sliding bar on right to scroll down to it.

(Note: In above LA Times video I made a mistake when I said that I've been a resident of California since 1990. I meant to say 1993. Seconds before I spoke, several reporters had asked me when Cosby raped me in NJ, which was in 1990. So 1990 was on my mind. For the record: I've been a resident of California since 1993 – not 1990.)
#EndRapeSOL Rally. Saturday, November 21, 2015 on Hollywood, CA. at Bill Cosby's Star.
#EndRapeSOL #CA is a grassroots campaign to end the California statute of limitations (SOL) on rape/sexual assault. California currently has a 10-year SOL on rape/sexual assault, after which time survivors are not able to report this crime. Videotaped during 3rd meeting. November 2, 2015.
CBS Baltimore WJZ Johns Hopkins Under Pressure To Rescind Cosby's Honorary Degree 10/30/2015 BALTIMORE (WJZ) — Johns Hopkins University is under growing pressure to take back the honorary degree it awarded Bill Cosby. The comedian is accused of sexually assaulting dozens of women, though he's never been charged. But one accuser with ties to Hopkins says the school should cut ties.

NBC Dateline: Cosby Accusers Speak Full Episode Aired 10/9/15 Twenty-nine women who accuse the comedian of inappropriate sexual behavior tell their stories to NBC's Dateline
NBC Dateline: The Cosby Accusers Speak Individual Interviews Twenty-nine women who accuse the comedian of inappropriate sexual behavior tell their stories to NBC's Dateline. Lili Bernard is interview #28
Entertainment Tonight Features Dateline Segment 10/9/15 27 of Bill Cosby's Accusers Share Emotional Testimonies: 'This Isn't OK'
FOX11NewsLosAngeles: Bill Cosby Deposed in 15-Yr Old Sexual Assault Lawsuit 10/9/15 Bill Cosby was scheduled to sit down for a deposition Friday in connection with a lawsuit filed by a woman who claims the comedian sexually assaulted her at the Playboy Mansion in 1974, when she was 15 years old.
CBS Sunday Morning: Bill Cosby's accusers tell their stories 9/20/15 THE WOMEN accusing Bill Cosby of sexual assault face a long and difficult legal road. He's been criminally charged with nothing, has admitted nothing, and many of the alleged offenses occurred years ago. Still, the accusers say they have stories that must be told — and several of them have been telling their stories to our Tracy Smith:

New York Magazine, 7/27/15 'I'm No Longer Afraid': 35 Women Tell Their Stories About Being Assaulted by Bill Cosby, and the Culture That Wouldn't Listen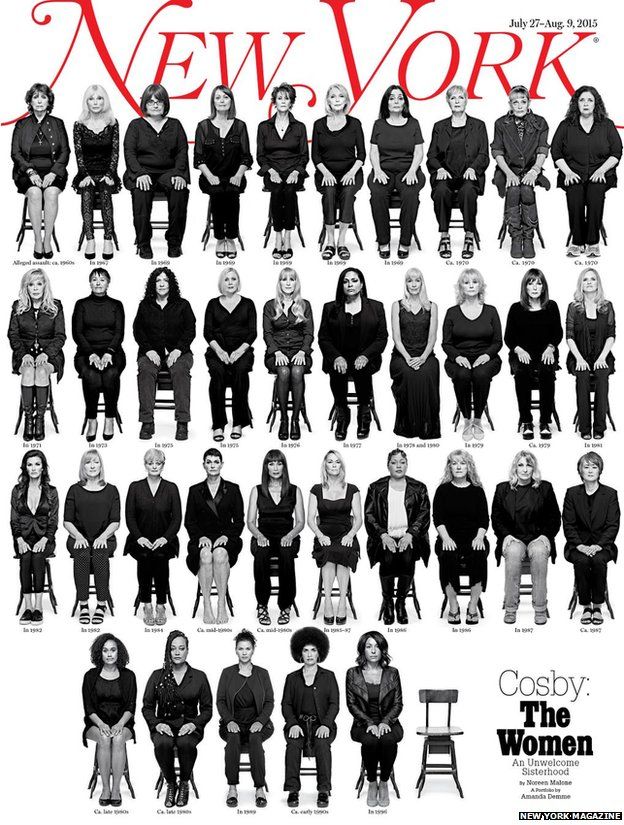 The Young Turks 7/10/15 Lili Bernard, who is accusing Bill Cosby of raping her, delivers a detailed and harrowing story of that night with Mr. Cosby as a response to Whoopi Goldberg's defense of him.
CNN Interview: Lili Bernard says she couldn't even wipe the tears after Bill Cosby raped her 7/8/2015 Lili Bernard says she couldn't even wipe the tears after Bill Cosby raped her.

Click here for a high resolution video of the second half of the above CNN Interview 7/8/2015
MSNBC The Ed Show 7/7/15 Cosby accuser speaks out: Lili Bernard, who alleges Bill Cosby assaulted her, and her attorney Gloria Allred join Ari Melber with their reaction to the latest Cosby revelations. Also, John Zack, a former federal prosecutor joins the conversation.
Entertainment Tonight, Friday, May 15, 2015 Lili Bernard and Gloria Allred criticize Bill Cosby's involvement with youth organizations in Selma Alabama which welcome him.
AJC.com Atlanta Journal Constitution 5/2/15 Bill Cosby's Accuser [Lili Bernard] and Gloria Allred Speak Out – Complete Statements read at protest of Cosby's last concert, Cobb County, GA (near Atlanta).
Click here for pics and entire text of above Atlanta press conference statement, 5/2/2015
DAILY MAIL: After he won my complete trust, he drugged me and raped me:' The Cosby Show actress and a writer come forward claiming Bill Cosby drugged and raped them decades ago 5/1/15 Lili Bernard guest-starred on 'The Cosby Show,' where, she said, Cosby gained her trust by mentoring her and praising her skills. Fryer's Club, Manhattan, NYC.
Click here for photos and entire text of above NYC press conference statement, 5/1/2015
A few clips of my guest-appearance on The Cosby Show in Season 8