My husband and I celebrated our 19th wedding Anniversary on December 29th last year. One of the secrets to the success in our marriage is that we make dating one another a non-negotiable. So how do couples, and particularly ones with children, make it a priority to continue romancing one another?
While it might not always be easy to implement, dating your spouse works best as a dedication to your marriage. Not doing so can result in a lack of intimacy and personal connection. My husband and I decided to get creative about keeping the spark ignited in our marriage after spending way too many evenings at home not knowing what we should do together.
Today, we consistently date bi-weekly. Our children love seeing their mom and dad connect (although they often say "gross" or "yuck"). Dating one another isn't about our children; it is about the two of us taking a stand for our relationship and taking steps to make sure it is a good one. It is about us doing what we need to do to prevent growing apart because of the busyness of life and business. Here are some recommendations to help you commit to dating your spouse:
• Book your babysitter in advance. When our children were younger we scheduled our babysitter(s) in advance as a standing order. Our sitter would arrive at 7pm every Friday night whether or not we had plans. Committing to the sitter forced us to get out of the house and figure out something for the two of us to routinely do.
• Create a date box for you and your spouse. Sometimes the children will go to bed as scheduled and you and your sweetie might have an opportunity to date at home. You can store date ideas in your date box such as watching a movie together, giving a massage, or opening a special bottle of wine and actually breaking out the good wine glasses. The idea is that the date is already planned and waiting for you inside the date box. The two of you can add to the date box as you come up with new experiences and ideas. The date box allows you to make use of those rare moments when you are able to have some quality time because all the planning is already done.
• Subscribe to a concert series or check out free concerts in your community. My husband and I have gotten pretty creative over the years and have attended concerts, cooking classes, wine tastings, and book signings to keep our nights out together interesting. We love doing things in groups because we have the opportunity to meet other couples as well.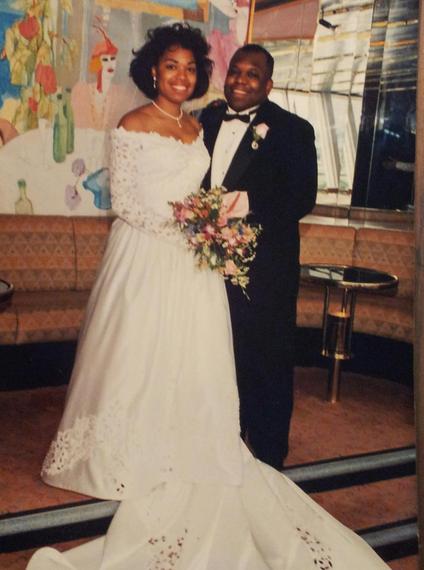 • As a challenge, go on dates that cost less than $5.00. The goal is to build intimacy and connection, and add quality into your relationship without creating another expense. Identify 5-10 things that you can do that cost less than $5.00. My husband and I love to go to our favorite bookstore, free museums, and coffee shops, take garden tours, and enjoy scoops of ice cream. The goal is talk to one another, hold hands, and connect. You don't need a big date budget to do that.
• Get dressed up at least once a quarter. Go out for a nice dinner and dancing for a change of pace. Sometimes our partners are only dressed up for work. When they get home from work the first thing they want to do is get comfortable and we don't get to experience them looking good for just us.
• Send the children to the grandparents or a good friend's home for the weekend. There is nothing like enjoying your home alone with your partner. When my children were young we couldn't always find someone to watch our children overnight so instead we would send them to their grand mom's for a few hours and date in our home alone (Shhhhhhh…).
The point is that keeping things exciting in your marriage means you have to commit to building a culture of commitment, connection and closeness. Dating your partner will give you both the opportunity to rebuild and rekindle that loving feeling.
Follow Mia Redrick on Twitter: www.twitter.com/MIA_REDRICK