Artillery Magazine – July 2015 Edition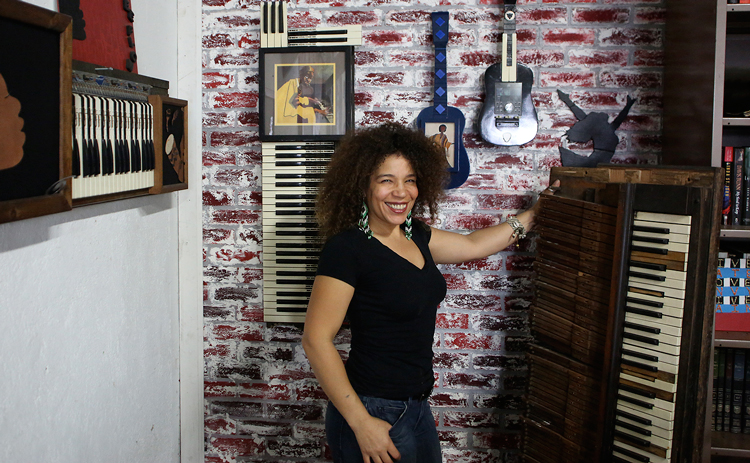 Skira Martinez
CIELO: Holding Up the Sky
"People come and can't find the building." Skira Martinez smiles. "'There's no sign! Where does it say CIELO?' They have an image in their mind of what it's supposed to look like… but it's low-key and nondescript." Martinez props temporary, hand-lettered signs in her planters along 32nd Street to direct audiences to her South Central Los Angeles warehouse, a space defined not only by a location but via its accessibility and flexibility, reflecting the wide-open vision of its name and its instigator.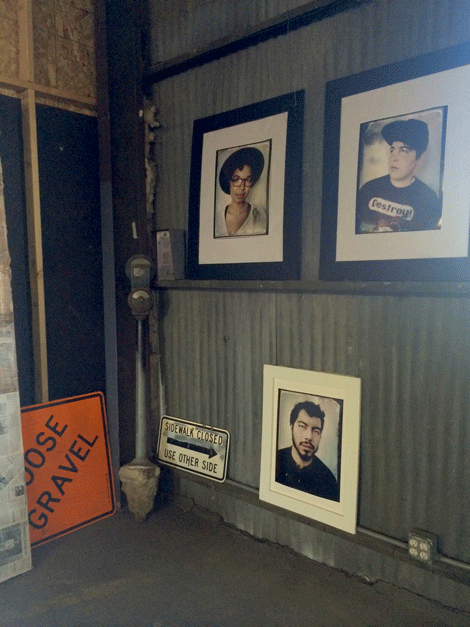 Interior of CIELO. Photo by Nancy Popp.
In offering classes and workshops I want to support not only this community, but other communities, in providing space for artists and people who are politically minded in the movement and the fight for a better life.
The name came easily: "I've always had the name cielo, which means sky; it was a nickname my father called me," Martinez explains. Born in the U.S. to community activists who relocated to rural Canada, Martinez spent most of her adult life in Toronto before moving to Los Angeles four years ago. Upon her arrival she was a co-founder of Corazon de Pueblo, a community arts and culture venue in Boyle Heights. At CIELO, the community gatherings have continued; Liberation School hosts regular meetings, while local political and organizing groups host workshops, events, and readings. Other projects such as the 2013 Anarchist Book Fair, the Blk Grrrl Book Fair and "BlkGrrrl Live! Zora," a 12-hour reading of Zora Neale Hurston's Their Eyes Were Watching God, draw larger, more diverse crowds. "In offering classes and workshops I want to support not only this community, but other communities, in providing space for artists and people who are politically minded in the movement and the fight for a better life. A lot of people who meet in this space end up going outside and starting other projects, which I like," she offers.
Martinez and several collaborators happened upon the building in 2012 in a state of disrepair, and planned to start an art collective. "It was a punk squat, and the police were frequently here, so the landlord ended up evicting [the previous tenants]," she explains. The collective disbanded within a year, but Martinez decided to stay in the 1920s building, which had previous lives as lumber yard and hardware supply, lighting manufacturer and a shoe repair. She rented out a portion of the 13,000-square-foot building to furniture makers and set builders, reconfiguring the remainder as a home and event space. "I decided this would be a great place to live, and to work, to do community organizing and 'artivist' events; I could tie together all the things that I love to do in one space."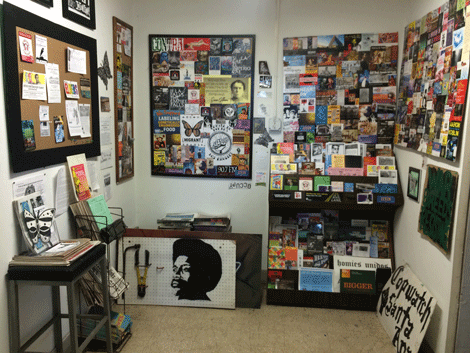 Reading room of CIELO. Photo by Nancy Popp.
In 2013, Martinez began accepting proposals and reaching out to artists in her community to exhibit at CIELO, including approaching locals who have sustained practices but are not embraced by the commerce-based gallery-art world and professionalized graduate school communities. "I think everyone can be an artist," Martinez asserts. She's organizing the residents of Skid Row to exhibit their creations, which she discovered through her volunteer efforts, and CIELO is hosting a fundraiser for the Downtown Women's Action Coalition to benefit Skid Row mothers. Other exhibitions have an educational focus, such as Las Fotos, which highlights the artwork of teen girls in Eric Ibarra's East Los Angeles photography program. Recent exhibition highlights include Lili Bernard's ambitious series Antebellum Appropriations at the Blk Grrrl Book Fair in March, Mexico City photographer Carlos Anadón's Biografias Robadas last November, and Kristy Lovich's experimental project Meet Me in the Day Room, which included collaborative performance, installation and video in January 2014. "I try to give the artists as much creative control as possible," Martinez says. "There are no set rules when it comes to the gallery; it's always customized. I really like when artists show work here that can't be shown anywhere else because it's too political, or too heavy a topic for a commercial gallery space."
Part of the reason Martinez offers such flexibility is due to her homeowner status, the home and CIELO being one and the same. The history of domestic exhibition spaces, particularly in Los Angeles, is extensive; David Prince's Adjunct Positions in Highland Park, Elizabeth Wild's Winslow Garage in Silver Lake, Calvin Phelp's former 2A Gallery and the initial iteration of Young Chung's Commonwealth & Council are but a few recent examples. Martinez' physical space is much larger than a living room or garage gallery, which affords her greater ease and exponentially greater options in terms of the projects she can support and range of events she can host. The boundary of private and public is mainly determined by the hours she schedules for the space and has control over. "I think you have to be of a certain personality. I would have a harder time in just a house; it would be more of a challenge… I can dictate how people will move through the space by physically setting it up; that really works in making things run more smoothly. It's not for everybody," she admits. "I have that period of a few weeks between events, which restores me, and then I'm ready to go again."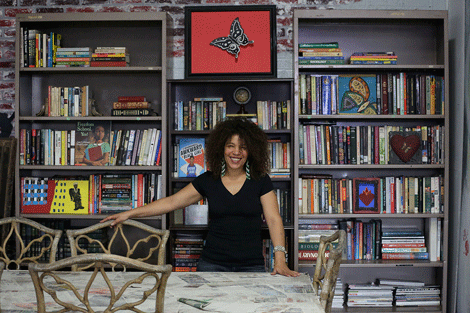 Skira Martinez. Photo by Eric Minh Swenson.
Homeowner status begets the discussion of gentrification and real estate development. "It's been my experience as an artist that wherever you set up becomes the next hot spot. That's the one thing I fear… but USC is right there, it's unavoidable. If this [open lot next to CIELO] is now owned by Metro it could be gentrified any minute. It's hard to say." Martinez has relative security due to owning CIELO, but definite opinions when it comes to the neighborhood's history and identity. Her response to the Los Angeles Times' recent article on the re-branding of South Central Los Angeles as "SOLA"? "CIELO is located in South Central. This is gentrification smothered in ridiculous bullshit."
Looking towards CIELO's future programming coming off a year of renovations and reconfiguring the space, Martinez has invited Lili Bernard back for a solo exhibition encompassing the entire warehouse. There will be a group show curated around an erotica theme, and Martinez will showcase her own photographs along with several other women photographers sometime in the fall. "[CIELO] is my work, in a sense. My photography projects have been in process for a long time, since I'm interested in documenting the people in this space, who comes through this space." Through this frame, Martinez realigns both political and artistic goals in offering the resource of generative space to a community. Her methods are slippery and flexible, not a clear fit to the community center or gallery model, but whatever works in the scope of her sky.